[Overview] [Start] [Lithuania] [Russia] [Japan] [USA] [Cargo Ship] [Todo] [Thank You!]

©2000 Snued
3.-14.December 1995 - On the cargo ship
I started my travel around the world and my idea was to travel slowly. So my last part I went on a cargo ship. I entered the ship on a cold Sunday in Newark. My journey brought me to Baltimore, Norfolk and again back to Newark, before we crossed the Atlantic. On the atlantic was quite rough weather, take in mind it was December and I was quite impressed how this large ship (over 200m long!) danced on the waves like a nutshell.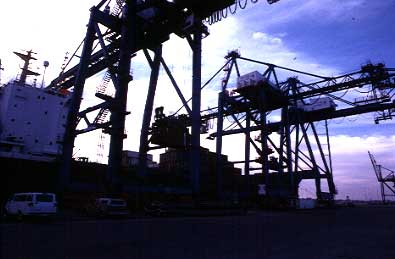 Loading the ship in Newark
[My Cabin on the MSC Lauren]
[The Bridge]
[Baltimore]
[Waking on Deck]

Some impressions from this trip
---
Literature about Cargo Ship Traveling
[1] "Travel by Cargo Ship" from Hugo Verlomme. This book gives a lot of infos about cargo ship traveling and it includes also contact information to cargo ship companies who offer cruise passenger cabins.

Buy it at Amazon!
[2] MSC Lauren is a ship from the Mediterranean Shipping Company: Agent in USA: Sea the Difference, 420 5the Avenue, 8the floor, New York N Y 10018-2702 USA, Tel +1 (212)764 48 00