Learning Russian and Drinking vodka in 9 Weeks
When I arrived in St.Petersburg I didn't know anything from the Russian language. I lived in a Russian guest family and they only knew Russian. So it was quite difficult to communicate with them the first few weeks.
In the first week in St.Petersburg we had the most import lesson: How to drink vodka. Of course the lessen was with practical exercise! Almost every week we had other exercises. This were usually in the evenings. Here a summary of How to drink vodka:
A toast on the health (na strovie), on the women (na chenchina) or any topic you like. Can also last for minutes
Drink the glass of vodka pur in one shot
Eat something salty, some meet or drink some coke. This neutralises the alcohol
Jump back to step 1 until you are really drunk
I tested this procedure several times and I never had a headache the next morning. Even after drinking of 1/2 liter of vodka in one evening!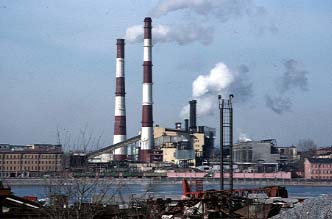 Vodka factory, just opposite of the school
---
Literature and Links about learning Russian in St.Petersburg
[1] Liden&Denz: Russian Language School in St.Petersburg

[2] As suggested from Ludmila Baykova: Educacentre - Russian and English language school in St.Petersburg
Last Updated: 31.8.2002/snued